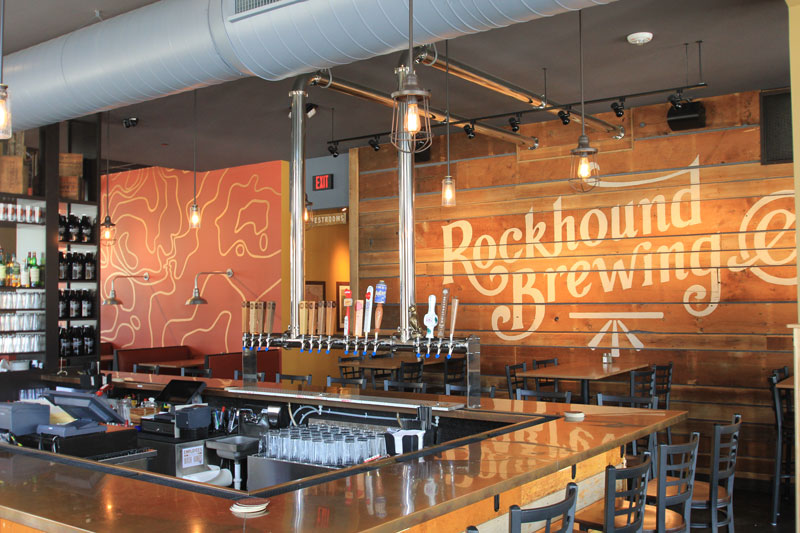 On April 5, 2020, Rockhound Brewing Company celebrated their four-year anniversary. Sketchworks had the honor of working with owner Nate Warnke to bring his 4,000-square-foot brewery and restaurant vision to life. We talked to Warnke and Sketchworks project manager Kirk Biodrowski about how Sketchworks was able to tangibly take Warnke's inspiration and turn it into a special neighborhood gathering spot.
Q: Nate, why did you decide to open Rockhound four years ago, and why did you choose the Park Street location?
Nate Warnke: We were hoping to fill a gap in a growing neighborhood for pub food [and a] brewery. Although a renovation of an older, established building would have been a strong option, we chose to go with new construction (inside a new building) as it provided some construction advantages—and there were very few older buildings in the area that would have worked. 
Q: What was important for Rockhound to have in the branding and look of the overall space?
Kirk Biodrowski: The name Rockhound comes from [Nate's] background in geology. Hints of this are showcased throughout the space. A wall painting was created to simulate a topographical map, for example.
NW: We were looking for warm and inviting, [and] we wanted to make the new space look "older." Finding ways to incorporate reclaimed wood was a large priority, as were earth tones. The mixture of some metal, old and new woodwork, plus new finishes (including flooring) softened the look and feel of the new space, and this was key to creating a warm, inviting atmosphere for guests. Lighting also became important to accent some of the design elements (particularly the large reclaimed wood logo wall) as well as create a warm glow throughout the pub.
Q: The flow of customers is always a huge consideration in the design plan. How did Rockhound's floor plan reflect this?
NW: The center island bar was a key component. We wanted to create a space for people to engage in conversation with each other and the staff. Having a sit-down dining room for casual, full-service dining was also important as we integrated a full kitchen into the facility to ensure a wide base of patrons.
We wanted the brewery visible to guests and passersby on the street. Although it was not easy with the configuration of the location, we placed [the brewing equipment] along Park Street for maximum impact [so] cars and people walking by [would see it]. We also ensured it was visible as people walked in, through a glass garage door that could close off the brewery when in operation.
Q: And the design plan definitely factored in one of Rockhound's most important products: the beer.
NW: In my mind, the one thing we spent extra effort and focus on was the tap system. We had a custom tap system built to have the beer travel approximately 70 feet above the kitchen, through large stainless pipes over the top of the bar area and down to the bar. By going overhead, instead of under the floor or bar, we created a focal point in the bar area.
Q: What are each of your favorite parts of the finished design of Rockhound Brewing Company?
NW: The combined efforts of architecture and design, as well as owner and builder input, created an inviting space for patrons. We've received a strong positive response to the space, with people enjoying beer and food at the bar and dining room. As owner, I was very impressed with what we were able to accomplish as a team and stay within the budget constraints for the project. It's been a joy to invite people in and show them my pub.
KB: My favorite thing when designing spaces like this is the reaction and the success of the owner. Nate, and others like him, have taken a huge risk to build something they love. It's wonderful to be a small part of their dreams.