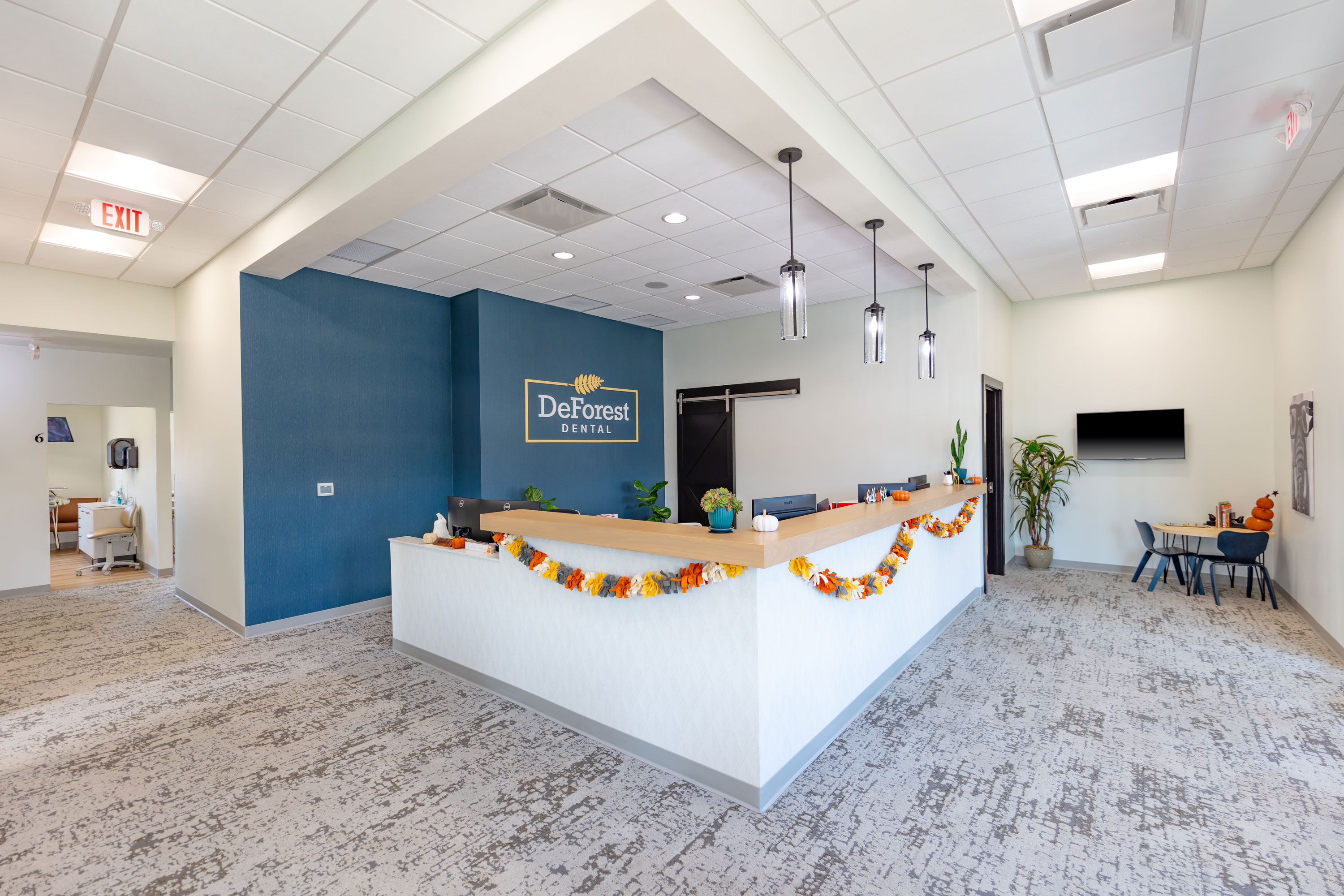 By Sketchworks Architecture
A modern farmhouse feel. Cool, soothing colors. Tasteful light fixtures. These touches aren't normally the aesthetic you'd associate with a dental office, and yet at DeForest Dental, it's exactly what greets patients when they step in the door.
It's come a long way from its former life as Sunset Bar and Grill. Mercy Dental Group, which owns and operates seven dental offices in the area, sought the expertise of Sketchworks Architecture and 1848 Construction to help reimagine the old bar and grill into a modern, welcoming dental practice. Design planning began in June 2021, renovations took place in early 2022 and the office's ribbon cutting was held in October 2022.
Moving into a larger space was of utmost importance to the business, which was "bursting at the seams" in their old location on North Main Street in DeForest, says Mercy Dental Group executive assistant Krysta Wetzel.
"DeForest Dental is a strong community-based clinic, and knowing we were building something that would not only be beautiful but also double our capacity to serve the DeForest/Windsor and surrounding communities was very exciting," says Wetzel.
Sketchworks Architecture and 1848 Construction worked with the company to refresh the entirety of the property, including the interior and exterior, the parking lot and landscape improvements.
Community was top of mind for the company, notes Charles McCall, project manager with Sketchworks Architecture.
"[Mercy Dental Group] expressed that although they have several locations, they like each one to reflect the area in which it is located," he says. "Branding this DeForest location to appeal to its hometown client base conveys familiarity without pretentiousness. The goal is that all clients feel comfortable and relaxed while receiving dental care."
A peaceful color palette of teal, cream, chocolate brown and mushroom carries throughout the practice. Soothing, nature-inspired carpet is used in common areas and white oak vinyl plank flooring is employed in treatment rooms and the breakroom for hygiene and durability purposes. Cool-toned greige cabinets house employees' personal items and break room essentials. Finishing touches include modern farmhouse lighting throughout the reception and common areas and black and white photographic prints.
Reflecting the calming element of the space, several of the treatment rooms also have a view of a pond just outside the windows, surrounded by grasses that gently wave in the breeze. This was a purposeful design element.
"Much of the western wall of the building had to be designed with new windows to leverage the view overlooking the water," explains Sam Blahnik, vice president of development with 1848 Construction.
DeForest Dental's aesthetic reflects several trends in health care design, including a focus on "home-like" design, beautiful artwork and durable/cleanable yet stylish materials — especially crucial during the COVID-19 pandemic.
"…[With] many pandemic-related challenges that needed to be confronted, healthcare organizations had to pay careful attention to the cleanliness and durability of their flooring and facilities, while still trying to foster a sense of calm. This was surely a challenge for healthcare interior design, but one that has spurred new and exciting innovations, in this space," notes Parterre, a commercial flooring company who reports on industry trends.
Beyond the décor and overall look, designing a dental office requires deep knowledge of equipment specifications, says Sketchworks Architecture principal and architect Steve Shulfer.
"Dental clinics are carefully designed in accordance of exam room standardization, operational flow of staff and coordinated closely with the dental equipment suppliers," explains Shulfer.
Being able to integrate the logistical demands of a healthcare clinic with an aesthetically pleasing patient and employee experience was successfully achieved in this bar-turned-dentist office.
"We accomplished an open feeling through the interior design of the building with windows and the materials we used. Having been a tavern previously, it had been very dark," says McCall. "Now, we hear repeated comments that people can't believe it used to be a tavern, as it has undergone a complete transformation."
Wetzel's staff is just as pleased with the office's end result.
"The best part of DeForest Dental is the people — buildings can't ever take the place of great people — so we feel extremely fortunate to have both," says Wetzel.