May 28 is National Hamburger Day and in honor of this all-American day we wanted to spotlight Sketchworks Architecture client Mr Brews Taphouse, a burger and beer bar with 12 locations nationwide. The franchise was founded in 2013 in Weston, Wis., and Sketchworks' design team has been involved in each location since.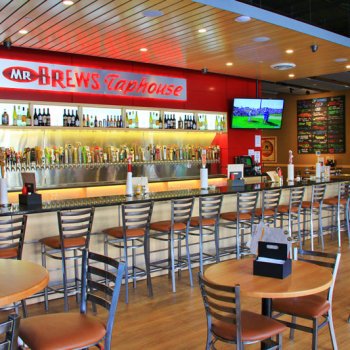 Because Mr Brews is a franchise, each restaurant must adhere to brand standards at every location. Sketchworks was instrumental in helping owner Steve Day refine the design of each burger and beer bar based on its footprint.
"The challenge is to optimize the Mr Brews concept for the square footage available to us. Locations vary in size — some with multiple stories. This process involves creating a concept layout that will be revised several times to balance seating quantity, bar size, kitchen layout and a host of other considerations," says Nick Badura, Project Manager at Sketchworks.
Having a partner like Sketchworks is instrumental for a franchise business like Mr Brews to establish uniformity between locations.

"Sketchworks has established a standards document for the new franchisee. This document contains images of existing locations, descriptions of equipment they will need and more that prepares them for what they need to build in a new space. Images of other Mr Brews locations provide the franchisee with options of how to complete their interior space based on what has been successful to this point," says Badura.
In general, Mr Brews embodies an industrial aesthetic (contemporary metal accents, exposed ceilings, sleek lighting and a mix of high-top and dinner tables) paired with wood elements. Some locations use chalkboards to list beers and specials, whereas others use digital signage. Each location draws from a standard color option palette and franchisees can add their own touches. To localize each Mr Brews restaurant, franchisees can customize selected aspects of their interior design: "Owners have involvement in the design and are part of the process. Often, they come in with some ideas of design elements, like light fixtures or materials to use for the finish of the bar," adds Badura.
The main draw though, is always the beer. Locations offer anywhere from 60 up to 72 beers on tap.
"The large line of taps can be dramatic to see, versus other bars with just a few beers on tap. Therefore, the layout is designed to focus your attention on the beer options available as you enter the space," notes Badura. "Another unique feature that isn't as noticeable to the customer is the beer cooler setup. Instead of running beer hose lines to a cooler room in the back of the restaurant, the walk-in cooler is located directly behind the bar. The wall of beer taps is actually the cooler wall, so long runs of hoses to the back of the restaurant are not needed, saving a lot of waste beer that would otherwise need to be flushed out. Conventional walls then enclose the cooler wall, so customers may not even be aware the cooler is located there."
It makes sense that the eatery's design centers around the suds. "Mr Brews' focus is the craft beer, and the design helps reinforce this," says Badura.